Unlimited Opportunities
with broad-based online degrees!
If you want to keep your career options open, have loads of transfer credits to leverage, or want to pursue a specific interest in Criminal Justice, look no further than Grantham University for your online degree program.
"A bachelor's degree means success – twice the weekly earnings of someone with only a high school diploma … and half the unemployment rate. "
Source: Employment Projections, March 2016, BLS.gov
At Grantham University, we offer broad-based degree programs through the College of Arts and Sciences, giving you the versatility to explore several career paths, including:
Criminal Justice – Learn from professionals in the fields of Homeland Security, Computer Forensics, Juvenile Justice and more
General Studies – Gain a well-rounded education offering critical thinking skills with classes aligned to today's job market
Multidisciplinary Studies – Leverage experiences and prior course work to explore varied disciplines and accelerate time to graduation
Interdisciplinary Studies – Tailor your educational experience to your career path … and your current experiences
Grantham's online degree programs offer the perfect mix of support, quality instruction and affordability – from financial aid options for working parents to special tuition rates for military personnel.
A MESSAGE FROM THE DEAN
Tina Freestone, MA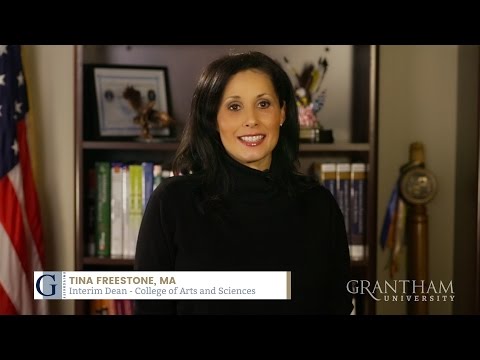 Transcript
Hello. My name is Tina Freestone and I am the Interim Dean of the College of Arts & Sciences.
In this college, we offer a broad selection of liberal arts degrees filled with professionally relevant curriculum guided by faculty with practical experience in their chosen fields.
Before starting my career at Grantham, I worked as a law enforcement professional dealing with criminal investigations, drug identification and undercover drug operations. That's the type of real-world experience – and industry insight – you can expect from all the instructors in the College of Arts & Sciences.
At Grantham, we adhere to the V.I.P.2 model of instruction. We are trained to be Visible, Immediate, Personal and Proactive to our students from the time of enrollment through graduation.
By enrolling in one of our liberal arts programs, you will experience V.I.P.2. With the support of the Grantham, we look forward to helping you achieve your educational goals.
The Grantham University College of Arts and Sciences prepares students for the workplace of today through the innovative use of online learning tools and curriculum designed to meet the expectations of fast-evolving employment markets … providing an intellectual base for succeeding in the competitive and diverse job market … with programs designed to enable graduates to perform successfully at many levels – technically, practically, socially and intellectually.