Pursue a Brighter Future 
and Enroll in an Online Health Care Program Degree!
Are you ready to begin - or advance - a career in health care? A top-rated1 online degree from Grantham University's College of Nursing and Health Professions can help.
"Healthcare occupations are projected to grow 18% between 2016 and 2026, adding more than 2 million new jobs to the industry."
Source: Occupational Outlook Handbook, April 12, 2019, BLS.gov
From working parents to military veterans, Grantham University's certificate, undergraduate and graduate degree programs are a great fit for adult learners ready to pursue a career in healthcare.
Message from the Dean
Cheryl Rules, Ph.D.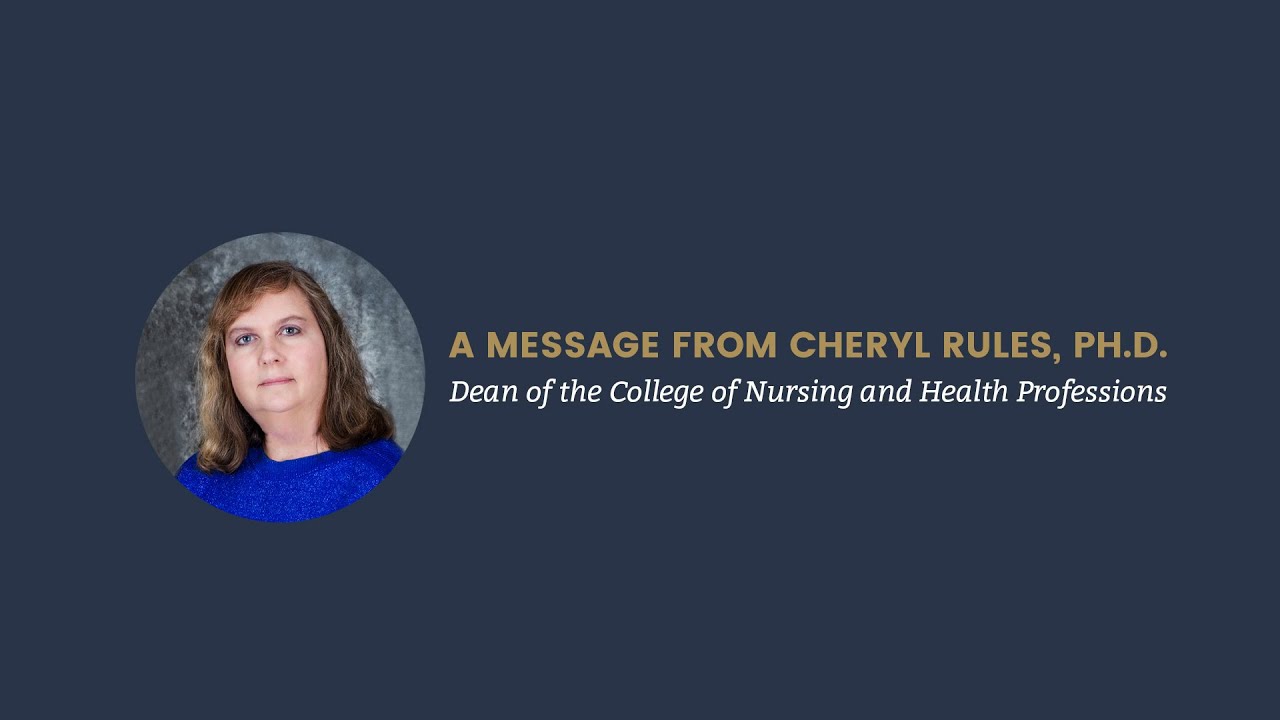 Hello. My name is Dr. Cheryl Rules. I'm the Dean of the College of Nursing and Health Professions.
Thank you for considering Grantham University as your educational partner. We specialize in helping adult learners like you achieve their degree dreams through online education. Our online nursing degrees, expert faculty and proactive support systems will help you succeed as you return to school.
In fact, we promise to do everything we can to help you succeed as your pursue your education. Take, for example, our innovative VIP Squared program: We will be Visible – actively engaging with you each week. We will be Immediate – responding to questions, issues or assignments within 48 hours. We will be Personal – offering live office hours. And we will be Proactive – posting course policies and contact information day one.
I hope to see you in one of our online classrooms … and I look forward to helping you achieve your educational goals.
The College of Nursing and Health Professions


Grantham University prepares healthcare professionals in nursing and health professions careers to expand their knowledge and skills in areas of leadership, community concepts, research and evidence-based practice related to current trends and issues in today's global society.
ACEN and CCNE accredited
Grantham University is proud to announce accreditation by the Accreditation Commission for Education in Nursing (ACEN) and the Commission on Collegiate Nursing Education (CCNE) for its College of Nursing programs*. These prestigious accreditations from organizations committed to excellence in nursing education serve to validate the quality of our nursing programs, faculty and process.
*The RN-BSN Degree Completion in Nursing and the Master of Science in Nursing and the four specializations master's degree programs in nursing at Grantham University are accredited by the Commission on Collegiate Nursing Education (http://www.ccneaccreditation.org).
Why Study Health Professions Online?
By obtaining a degree in health professions, students are able to more easily find employment in the healthcare industry and ultimately perform their jobs better. Associate and bachelor's programs in the College of Health Professions focus largely on foundational theories and healthcare concepts. Course topics will consist of medical terminology, healthcare delivery systems, healthcare software applications and more. In addition, students will gain a legal and ethical understanding of healthcare practices.
Graduate programs in the health professions field expand on undergraduate foundations with more advanced curriculum. As part of these programs, students will gain real-world experience in a clinical practice setting under the supervision of healthcare professionals. Students will also develop leadership skills that will help them thrive in a management position.
Due to our country's aging population, opportunities in healthcare continue to grow. According to the US Department of Commerce, there are more people over the age of 65 than there are under the age of 65 in the United States. And as healthcare technology continues to advance, this trend is only expected to continue over time.
Grantham offers a host of health professions programs at all academic levels. Those interested in the integration of technology and healthcare should consider the health information management program. For those looking for an entry-level health professions position, the Electronic Health Records and Medical Coding and Billing Certificate programs are excellent options.
Career Outlook for Health Science
An education from an accredited university like Grantham gives an upper hand to any graduate looking for a new job or promotion in the healthcare field. With a degree or certificate from the College of Nursing and Health Professions, you could claim a rewarding new position as a health education specialist, community health worker, nutritionist or lab technician, for example.
There are several specialized programs available to students wanting to pursue healthcare. In Grantham's College of Nursing, specializations are available in education, informatics, case management and more. Health science degrees can also prepare students for non-clinical careers without licensure, such as managing medical claims and maintaining patient health records. These types of administrative jobs can often be secured with only a certificate, which are designed to be completed in just eight months.
For those interested in clinical positions, Grantham offers several nursing programs at both the undergraduate and graduate level. Salaries are generally higher for clinical work, as it requires supervised practice beyond just a diploma.