Pursue a Brighter Future 
with an online health care program degree!
Are you ready to begin - or advance - a career in health care? A top-rated1 online degree from Grantham University's College of Nursing and Allied Health can help.
"Healthcare occupations are projected to grow 18% between 2016 and 2026, adding more than 2 million new jobs to the industry."
Source: Occupational Outlook Handbook, April 12, 2019, BLS.gov
From working parents to military veterans, Grantham University's certificate, undergraduate and graduate degree programs are a great fit for adult learners ready to pursue a career in healthcare.
Message from the Dean
Cheryl Rules, Ph.D.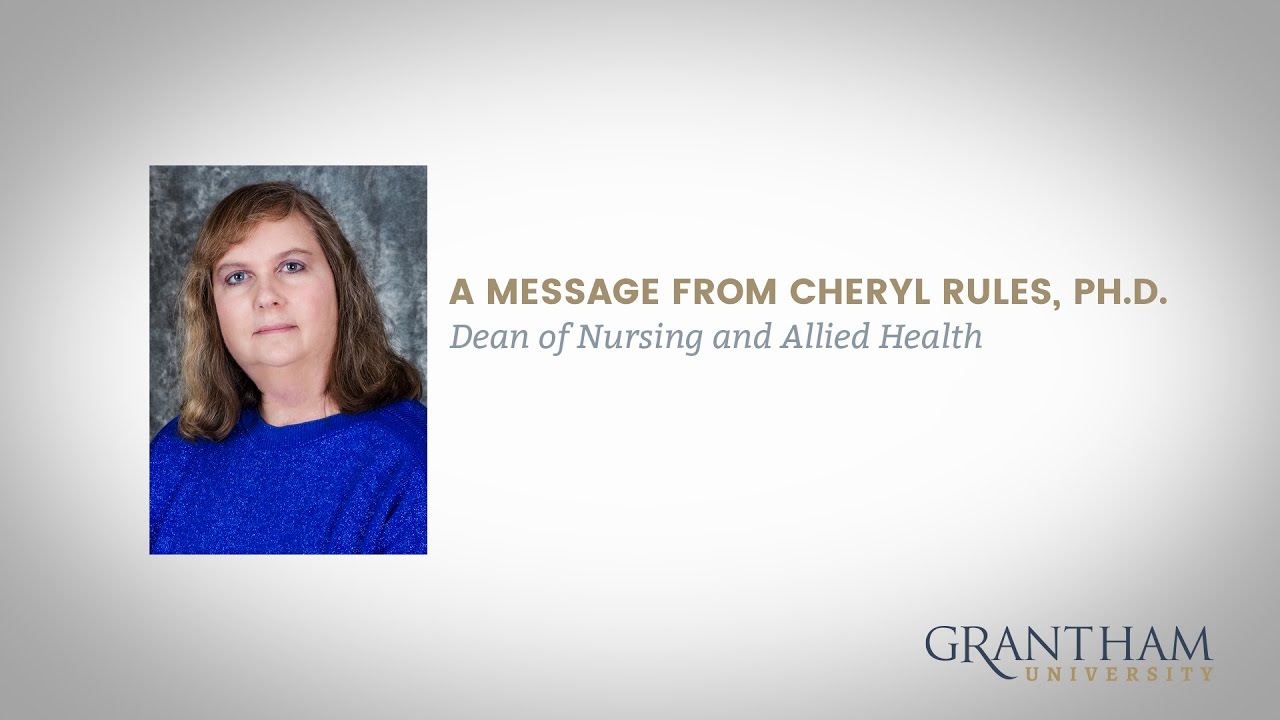 Hello. My name is Dr. Cheryl Rules. I'm the Dean of the College of Nursing & Allied Health.
Thank you for considering Grantham University as your educational partner. We specialize in helping adult learners like you achieve their degree dreams through online education. Our online nursing degrees, expert faculty and proactive support systems will help you succeed as you return to school.
In fact, we promise to do everything we can to help you succeed as your pursue your education. Take, for example, our innovative VIP Squared program: We will be Visible – actively engaging with you each week. We will be Immediate – responding to questions, issues or assignments within 48 hours. We will be Personal – offering live office hours. And we will be Proactive – posting course policies and contact information day one.
I hope to see you in one of our online classrooms … and I look forward to helping you achieve your educational goals.
The College of Nursing and Allied Health


Grantham University prepares healthcare professionals in nursing and allied health careers to expand their knowledge and skills in areas of leadership, community concepts, research and evidence-based practice related to current trends and issues in today's global society.
Announcing ACEN accreditation
Grantham University is proud to announce accreditation by the Accreditation Commission for Education in Nursing (ACEN) for the School of Nursing. This prestigious accreditation from an organization committed to excellence in nursing education serves to validate the quality of our nursing programs, faculty and process.
School of Nursing Updates and Notices
The Grantham University School of Nursing will host an accreditation site review in October, 2019 by the Commission on Collegiate Nursing Education (CCNE) for the RN to BSN Completion Program and the Master of Science in Nursing Program.
Program constituents and other interested parties can submit, in writing, comments concerning the program's qualifications for accreditation. Written comments must be received by CCNE by September 30, 2019.
Direct all written comments to:
Commission on Collegiate Nursing Education
Attn: Third-Party Comments
655 K. Street NW, Suite 750
Washington, DC 20001
Direct all electronic comments to:
thirdpartycomments@ccneaccreditation.org
All third-party comments submitted to CCNE must be written in English, consistent with CCNE's policy on Conduct of Business in English.