---
Electronics Engineering Technology
(Bachelor of Science)
If you're looking to enter a technical field, one where you can work with your hands and still use your brains to solve complex issues, then Grantham University's Bachelor of Science in Electronics Engineering Technology might be just the ticket.
Your coursework in this accredited online
engineering degree
program will help you develop skills in advanced circuit theory and design, digital and analog electronics, microprocessor fundamentals and signal processing.
Customize your education with electives in power systems, control systems and communications. This engineering technology degree will help you be...
Successfully employed in engineering technology or a related field, or be accepted into a graduate program
Effective in technical problem identification and analysis, problem solving or system design in a variety of technical roles
Effective as a professional through communication skills, project management skills, ethical conduct, social awareness and teamwork
Technically current through continued education and professional development
TIME TO DEGREE COMPLETION
UP TO
75%
CLOSER TO GRADUATION WITH CREDIT FOR PRIOR COURSEWORK + LIFE EXPERIENCE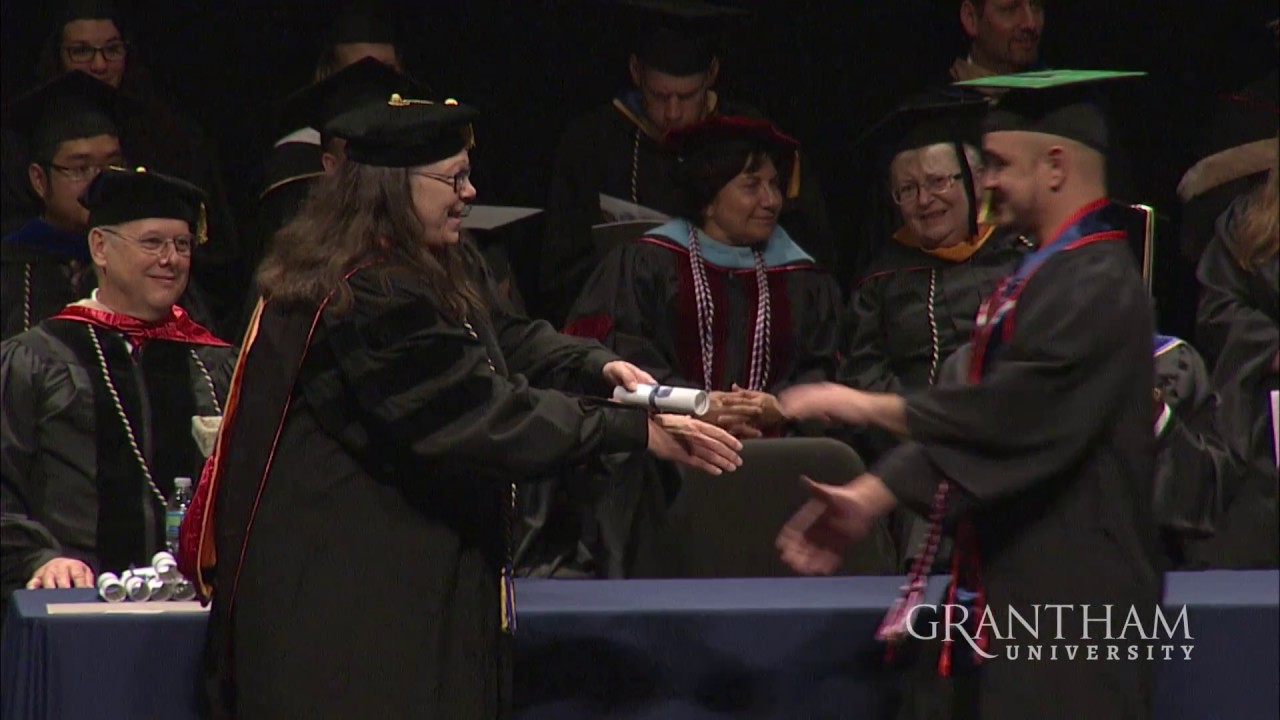 Career Options1:
• Engineering services
• Utilities industry
• Federal government
• Manufacturing settings
• Research-and-development laboratories
How much will the Electronics Engineering Technology online degree program cost?
The undergraduate rate is $265 per credit hour, $250 if you're a military member, a veteran or part of a military family. Grantham also offers scholarships and financial aid for those who qualify.
When can I start?
Courses begin monthly. We're ready when you are.
Call us at (888) 947-2684 to learn more about Grantham University's Bachelor of Science in Electronics Engineering Technology and other accredited degree programs, financial aid opportunities or the enrollment process.
https://www.bls.gov/ooh/
Electronics Engineering Technology
(Bachelor of Science)
Electronics Engineering Technology Degree Program Outcomes
After successfully completing these electrical engineering degree courses, you will be able to:
Select and apply the knowledge, techniques, skills and modern tools of the discipline to broadly defined engineering technology activities.
Select and apply a knowledge of mathematics, science, engineering and technology to engineering technology programs that require the application of principles and applied procedures or methodologies.
Conduct standard tests and measurements; conduct, analyze, and interpret experiments; apply experimental results to improve processes.
Design systems, components or processes for broadly defined engineering technology problems appropriate to program educational objectives.
Function effectively as a member or leader on a technical team.
Identify, analyze and solve broadly defined engineering technology problems.
Apply written, oral and graphical communication in both technical an non-technical environments; identify and use appropriate technical literature.
Identify the need for and engage in self-directed continuing professional development, including the ability to identify strategies for acquiring competency in unfamiliar subject areas or skills.
Address professional and ethical responsibilities, including a respect for diversity.
Identify the impact of engineering technology solutions in a societal and global context.
Demonstrate a commitment to quality, timeliness and continuous improvement.
Apply electric circuits, computer programming, associated software applications, analog and digital electronics, microcomputers, operating systems, local area networks and engineering standards to the building, testing operation and maintenance of computer systems and associated software systems.
Apply natural sciences and mathematics at or above the level of algebra and trigonometry to the building, testing, operation and maintenance of computer systems and associated software systems.
Analyze, design and implement hardware and software computer systems.
Apply project management techniques to computer systems.
Utilize statistics/probability, transform methods, discreet mathematics or applied differential equations in support of computer systems and networks.
University Professional Outcomes
Grantham University prepares graduates to succeed in a variety of professional and civic settings by incorporating these five critical life skills into the curriculum:
Communication – competence in effective written and oral communication
Critical Thinking – ability to analyze problems, reflectively process information and formulate solutions
Respect for Diversity – awareness of and appreciation for varieties of human experiences and social structures
Professional, Ethical and Social Responsibilities – responsibility to the greater societal good and an applied ethical framework in decision making
Lifelong Learning – definition for and acquisition of a continuing pursuit of educational needs throughout their professional lives
Enrollment in the Bachelor of Science in Electronics Engineering Technology program for the 2016-2017 Academic Year (July 1, 2016 to June 30, 2017) was: 461
The number of graduates from the program for the 2016-2017 Academic Year (July 1, 2016 to June 30, 2017) was: 26
Electronics Engineering Technology
(Bachelor of Science)
This engineering technology degree will prepare you for entry level positions in electronics and electrical engineering tech fields1.
Potential career paths and positions include:
Digital Technician
Engineering Assistant
Engineering Technician
Electrical Engineering Technician
Electronics Technician
Failure Analysis Technician
Employers can include:
Professional, scientific and technical services
Multi-national corporations
Financial institutions
Large-scale retailers
Major manufacturers
Government – local, state and federal
Electronics Engineering Technology
(Bachelor of Science)
As you look at your options for electrical engineering online degree programs, consider Grantham University's 100% online coursework is designed to help working adults, like you, find educational success.
| PROGRAM SNAPSHOT: | | | |
| --- | --- | --- | --- |
| Program Core Credits: | | | 65 |
| General Education Core Credits: | | | 28 |
| Electives Credits: | | | 36 |
| Total Credit Hours: | | | 129 |
| Accreditation(s): | | | DEAC |
Program Core:
65
Course:
Title:
Credits:

Course:

CS192

Title:

Programming Essentials

Credits:

3
This course introduces problem-solving concepts needed for programming. It covers fundamental control structure such as the sequential structure, the selection structure and the repetition structure. The use of logic in designing programs has general application.

Course:

CS265

Title:

Programming in C++

Credits:

4
This course is an introduction to C++ programming. Topics include control structures, arrays, pointers, classes, overloading, inheritance, file processing and data structures.

Course:

CT212

Title:

Digital Electronics (Lab included)

Credits:

4
This is an introductory course to the fundamentals of digital electronics. Topics include number systems and codes, logic gates, Boolean algebra, combinational circuits and PLCs. Sequential circuits are introduced. Circuits are implemented using circuit simulation software and also using a hardware description language.

Course:

CT262

Title:

Microprocessor Systems Engineering (Lab Included)

Credits:

4
This course provides a systems-level understanding of microprocessors. Students write practical programs and learn to plan, write and test software solutions for real applications. A solid understanding of the role of the various types of memory on the modern microcomputer system is covered. The included safety module must be passed in order to progress in and pass this course.

Course:

ET105

Title:

Fundamental Properties of DC Circuits and Lab

Credits:

4
This is a comprehensive course on the properties of Direct Current (DC) circuits. Topics include electrical components, electrical quantities and units; voltage, current, and resistance; Ohm's Law, energy and power; series and parallel circuits; series-parallel circuits; magnetism and electromagnetism. This innovative laboratory course is based on computer-simulated experiments for electric circuits using Electronics Workbench (Multisim). Circuits are modified easily with on-screen editing, and analysis results provide faster feedback than a series of experiments using hardwired circuits. The experiments are designed to help reinforce the theory learned in the circuit analysis course. A series of troubleshooting problems help students develop troubleshooting skills. Topics include voltage and current in DC circuits, Ohm's Law, series and parallel circuits, and voltage and current divider rules.

Course:

ET115

Title:

Fundamental Properties of AC Circuits and Lab

Credits:

4
This course is a continuation of EE102. The student is introduced to the concepts and laws which describe the behavior of AC circuits. After an introduction to capacitive and inductive circuits, the behavior of RL, RC, and RLC circuits will be analyzed using circuit theories. Topics include using the oscilloscope, Ohm's Law in AC circuits, capacitors, inductors, capacitive reactance, inductive reactance, RC circuits, RL circuits, RLC circuits, and transformers. An emphasis is placed on troubleshooting AC circuits. Transformer theory will also be covered in the course.

Course:

ET212

Title:

Electronics I and Lab

Credits:

4
This foundational course in analog electronics introduces the student to the fundamentals of diode and transistor circuit analysis and design. Topics include semiconductors, diode theory and circuits, bipolar transistors, transistor biasing, AC models, and voltage amplifiers. Electronics Workbench software will assist students to analyze and design basic diode and transistor circuits. In addition to the technical component, audio/visual and oral presentation skills are emphasized and integrated.

Course:

ET222

Title:

Electronics II and Lab

Credits:

4
This course is the second in a two-part sequence on electronic devices. This course provides a foundation for analyzing and designing advanced analog electronic circuits. Topics covered include power amplifiers, emitter followers, JFETs, MOSFETs, frequency response of transistors, differential amplifiers and operational amplifiers. The course concludes with advanced circuits such as oscillators, phase-locked loops, and power supplies. Principles of teams and team dynamics are integrated with group design projects. Besides the design component, analytical labs, demonstrating the fundamental principles of the theory, are performed using Electronics Workbench software.

Course:

ET310

Title:

Circuit Analysis

Credits:

4
This circuit analysis course provides an introduction to the basic concepts of modern circuit theory. The topics covered in the course offer a foundation in electrical and electronics engineering. This course focuses on basic circuits to enable the student to understand fundamentals that, in turn, will enable them to analyze complicated circuits.

Course:

ET332

Title:

Analog Integrated Circuits and Lab

Credits:

4
This in-depth course provides a thorough understanding of a variety of op-amps and integrated circuits and their applications. Theory and practice are covered in a simplified and methodical manner. Students analyze and design a wide variety of circuits involving operational amplifiers and linear integrated circuits. Topics include op-amp data sheets, frequency response of an op-amp, active filters and oscillators, and IC applications and system projects. In addition to software simulation to analyze basic op-amp circuits, students solve several design problems involving op-amps and integrated circuits. The final lab requires a final presentation and report.

Course:

ET372

Title:

Instrumentation and Measurement and Lab

Credits:

4
This course focuses on interfacing electronic systems to the environment and mechanical systems through a thorough introduction to pneumatic and electrical sensors and actuators, their specifications, and their designation in electrical drawings. Data acquisition systems are studied along with analog and digital signal conditioning, filtering, and analog to digital conversion. The basic process control system and the various types of controllers, including programmable logic controllers, are introduced. Converters and signal conditioning are explored through the use of software. In addition, through simulation software, students have an opportunity to analyze the performance of various sensors, incorporate them in design problems, and program a programmable logic controller.

Course:

ET382

Title:

Signals and Systems Theory and Lab

Credits:

4
This course provides an effective and efficient environment for students to learn the theory and problem-solving skills for linear systems. Real-world applications and actual data actively engage the student with concrete problems that reinforce intuition and critical thinking. Continuous and discrete-time signals and systems are covered. Topics include Fourier analysis, convolution, filters and applications, modulation, sampling, signal reconstruction, Laplace transform, z-transform, and linear feedback systems. The student will have an opportunity to use software simulations to explore mathematical concepts introduced through theoretical frameworks.

Course:

ET410

Title:

Technical Project Management

Credits:

3
Introduction to the management of engineering projects. The design review process is presented as well as techniques for determination of requirements. Topics also include the product development life cycle, scheduling techniques, and continuous improvement. In teams, students develop a proposal for the EE450 capstone project.

Course:

ET450

Title:

Capstone Project

Credits:

3
Students, in groups, develop, build, test, and present the project approved in the project management course. The project management process of EE410 is executed and documented. Prerequisite: Last course taken to satisfy undergraduate degree program requirements

Course:

MA302

Title:

Calculus I

Credits:

4
An introductory-level course that includes topics on limits, derivatives, derivative tests, concavity, applications of the derivative and integration, area under the curve, the fundamental theorem of Calculus, and integration techniques using parts and substitution.

Course:

MA312

Title:

Calculus II

Credits:

4
An advanced Calculus course on integration, differential equations, parametric equations, polar coordinates, conic sections, dot and cross products, quadratic surfaces, partial derivatives, double and triple integrals, and vector calculus.

Course:

PH221

Title:

Physics II

Credits:

4
This introductory algebra-based physics course is intended for first- and second-year college students, especially those majoring in information systems, software engineering technology, computer science, computer engineering technology, and electronics engineering technology. The course continues Physics I and covers a range of topics, concepts, and theories in general physics including waves and sound, electric forces and electric fields, electric potential energy and the electric potential, electric circuits, magnetic forces and magnetic fields, electromagnetic induction, alternating current (ac) circuits, electromagnetic (EM) waves, the wave nature of light including interference, special relativity, and the dual nature of particles and waves. The course also introduces the student to applied physics and applies this knowledge to real-world problems. Includes one (1) lab credit.
General Education:
28
Course:
Title:
Credits:

Course:

GU101

Title:

Student Success

Credits:

3
This course provides students with the foundation of knowledge and skills needed for today's online college environment. Students will explore their own preparedness for online learning through examination and analysis of their own skills, traits, and behaviors. In addition, students will acclimate to the online college environment through specifically-designed activities which provide opportunities to acquire necessary skills, behaviors, and understandings which are essential for academic success.

Course:

CO101

Title:

Introduction to Public Speaking

Credits:

3
This course provides students with a broad overview of public speaking, including such topics as audience analysis, idea generation and development, speech organization and speech delivery. Topics include how to outline speeches, create effective introductions and conclusions, use appropriate language and control nervousness. In addition, students examine guidelines for and practice delivering informative and persuasive speeches. Students will record themselves delivering speeches, thus they will need to know how to use a webcam and how to upload video files from their devices into the assignment dropbox in the Learning Management System.

Course:

EN101

Title:

English Composition I

Credits:

3
This course develops written communication skills with emphasis on understanding the writing process, analyzing readings and practicing writing for personal and professional applications.

Course:

EN361

Title:

Technical Writing

Credits:

3
This course teaches the skills needed to produce such forms as memos, informal reports, proposals, and letters of applications. The course starts with theory and proceeds to skills and applications. Some of the topics studied include the Technical Writing Process, Research, Summarizing, Outlining, and Formatting of various reports. Your knowledge of the subject matter will be evaluated through objective tests, and your writing skills will be evaluated by your performance on writing assignments.

Course:

ET100

Title:

Engineering and Ethics

Credits:

3
This first course introduces the student to engineering and engineering technology, professionalism, responsibility in engineering, and ethical theories and decision-making. The role of analysis and design in engineering as well as basic design methodology provide the student a framework for subsequent courses.

Course:

MA105

Title:

College Algebra

Credits:

3
An introductory level course on the fundamental concepts of algebra. Topics include equations, polynomial and rational functions and graphing, and exponential and logarithmic functions.

Course:

MA141

Title:

Precalculus

Credits:

3
An intermediate level mathematics course on the basics of algebra and trigonometry. Topics include factorization, powers and exponents, radicals, quadratic equations, inequalities and absolute value, progressions, graphing, introduction to limits, and basic trigonometry.

Course:

PH220

Title:

Physics I

Credits:

4
This course provides an introduction to college physics, using an algebra-based approach. It is intended for students majoring in information systems, software engineering technology, computer science, computer engineering technology, and electronics engineering technology. The course covers a range of topics, concepts, and theories in general physics including kinematics and dynamics in 1D and 2D motion, forces and Newton's laws of motion, work and energy, impulse and momentum, rotational kinematics and dynamics, simple and harmonic motion, fluid dynamics, and temperature and heat. The course also introduces the student to applied physics and applies this to real-world problems of engineering. Includes one (1) lab credit.

Course:

GU299

Title:

General Education Capstone

Credits:

3
GU299 is the capstone course for Grantham University's general education program, and it serves a dual purpose. First, GU299 helps students bridge the gap between the broad-based learning they experience throughout their general education courses and the discipline-specific learning they will engage in as they move closer toward degree completion. By highlighting the specific skills and knowledge they attained through their general studies and working with them to incorporate those skills and that knowledge within their specific academic areas, students will achieve a greater awareness of how knowledge is intertwined, and better recognize how information drawn from one experience can be applied directly toward another, leading them to become more actively engaged, socially-aware citizens of the various communities to which they belong.
NOTE: Electives Credits include two (2) General Education Electives totaling six (6) credit hours.